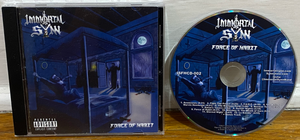 Immortal Sÿnn's sophomore release, Force of Habit! The CD version of the album contains a 12-page booklet and two bonus tracks - "Eternal Night" and "La Balada".
Track listing:
Anamnesis
Fight the Prince
F.U.D.C.
The Ballad of Marvin Heemeyer
The Mailman Song
Nuclear Terror
Satan's Tavern
Denver Nights
Force of Habit
Whiskey II: The Wrath of Corn
Eternal Night
La Balada
 - The album artwork was once again created by Mike Learn!